A steady stream of leads.
It's vital for any professional services business, and Bennett Legal Services is no exception. But when Paul Bennett contacted Squarely Digital in late 2021, he didn't just need to find that stream. He needed to find it in a hurry.
Paul was launching a solo employment law practice soon. He had seen Google Ads work for his previous firm, but he wasn't involved with the campaigns. So he needed someone to create and manage a search campaign that could generate leads for his new firm.
Here's what happened next:
• Three weeks after the statement of work was signed, we had a new ad campaign running, with a well-researched strategy, conversion tracking, optimized landing pages and reporting in place.
• Two days after launch, the campaign produced its first lead. (Technically, it produced four leads that day.)
• In its first full month, the campaign produced 49 leads with a conversion rate of 9.6 percent. In other words, nearly one out of every 10 people who clicked an ad filled out a form to contact Paul.
• By the campaign's fourth month, the conversion rate had nearly doubled to 18.7 percent. As of this writing, the campaign averages about 70 leads per month with a conversion rate of 21 percent.
"I wouldn't still be in business if it weren't for this Google Ads campaign," Paul says.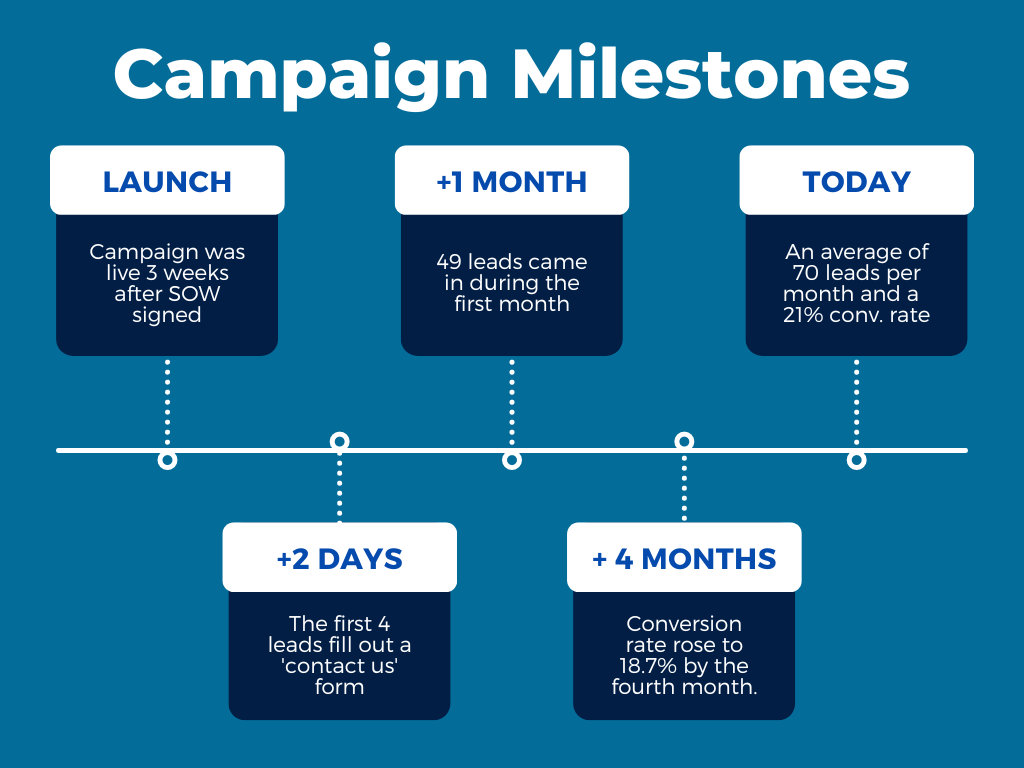 I think there are three reasons this Google Search Ads campaign has worked so well for Paul's practice:
1. It started with collaboration.
Paul and I spent time on the phone and exchanged frequent emails to make sure I understood who his ideal clients were, the problems they had, and what they valued most in Paul's representation.
That allowed Squarely Digital to choose the right keywords, write ad copy that resonated with potential leads, and create a landing page that closed the deal.
2. We followed the research.
Keyword research told us that geographic terms were going to be important. When people search for an employment lawyer, they usually include their city in the search — "employment lawyer in Chicago," or "wrongful termination attorney in St. Louis."
Those searches seemed likely to have a higher click-through rate and a higher conversion rate, too. So the campaign is built around keywords that include city names, and the copy in the ads and on the landing pages contain the city name that matches the one the user put in their search.
That makes it clear to web searchers that Bennett Legal Services serves their area. The results indicate this was the right approach.
3) We were results-focused from Day 1.
Google Ads offers a lot of metrics to track your campaign — clicks, impressions, cost per click, search impression share, average ad position, and many more.
But Paul needed leads — a consistent supply of potential clients filling out the "Contact Us" form on his website. So each decision was made with conversions in mind.
And to this day, each weekly report we send to Paul starts with lead data. When the conversion rate dips, we act quickly to fix it. And we make adjustments in an effort to get even more leads for the campaign budget.
I'm pleased to report that the campaign has been running for just over a year now, and it produces consistent results in terms of leads and cost per lead.
Not every Google Ads campaign will work as quickly and efficiently as Bennett Legal Services', to be frank. But by following a similar approach, we know that we get the best odds of success for our clients. And more often than not, the stream of leads will flow.
Is your business searching for that stream of leads, too? Squarely Digital's pay-per-click ads service could help. Check out our PPC offerings and get in touch if you want to discuss how we could help.